Wireless Home Networking-Choosing The Right One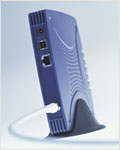 Are you suffering from home wireless networking nightmare? There are so many options. 802.11a, 802.11b, 802.11g - what is all that? All you want is to get online on your notebook computer in your living room without tripping over wires.
First thing you should know is, all of them will get you online or network your computers together. The difference lies in speed, connection quality and more important today, security.
Tips To Ensure Your Wireless Network Is Secure
1. Reduce the Access Point (AP) broadcast strength whenever feasible
- Cover only required areas in your home or business by placing the AP in a more central location, away from exterior walls.